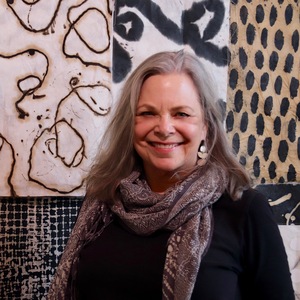 Marianne Hall was raised in the shadow of the auto industry in Detroit, Michigan. She was recognized early in life for her curiosity and talent for making things. Hall went on to earn her BFA in Fibers from Wayne State University.

Her travels have taken her across the world where she fell in love with the handmade papers of Japan and Korea, and to places where she was introduced to the indigenous cultures of Africa, Australia, and North America.

In 2019 she was chosen as a participant for SURFACE: Emerging Artists of New Mexico. Last year her work was shown at the Arts Thrive Benefit for the Albuquerque Museum, in Albuquerque, and at the Farmington Museum in Farmington, New Mexico.

2020 found her work in the online exhibits: Socially Distanced and Rough Around the Edges juried by Jen Tough of the Jen Tough Gallery in Santa Fe. She is also a featured artist in SWContemporary's Field Guide 2020, a guidebook to New Mexico's art and culture, and at the Arc Gallery, San Francisco, CA, 'Fragments' exhibit Dec. 3 - 19.

Originally from Michigan, Marianne now makes her home in New Mexico.
Statement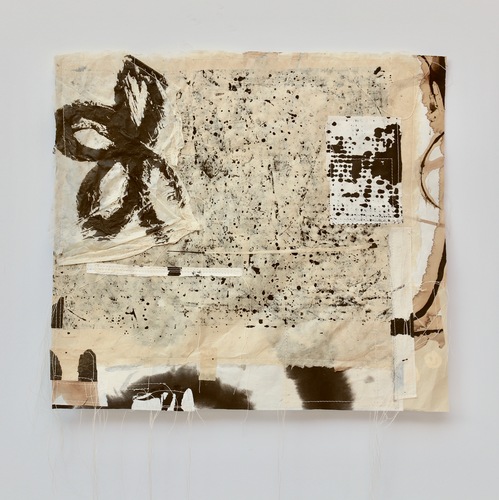 Nomadic Alter, Stitch Collage, Ink on Rice Paper, 14 x 13 inches
My practice has evolved from a lifetime of travel and an affinity to thread, texture and fiber based materials. I am inspired and calmed by the sense of touch and spiritual curiosity. Explorations into paper making, printmaking, Encaustics and sewing practice have led to my recent body of work. I suppose it's possible that my urge to make things came from my maternal grandparents, whom I never knew. By all accounts, they were tailors and designers and made things with fabric.
My layered abstracts are a metaphor for connection and relationship. I draw on the rhythms of nature and my belief in the spirit that flows through all things. These rhythms oppose, harmonize or blend to create a captivating patchwork. I seek order in chaos and create relationships where none existed before. The Japanese aesthetic of honoring beauty in imperfection is my constant muse.
Natural materials and neutral colors are my first choice. I favor mulberry paper for its strength and translucency. I value vintage papers for their sense of history. I choose Sumi Ink and ink I brew from walnuts for their essential quality. The element of touch guides the way I work. I often use stitch to add texture and to connect segments of my marked paper. All of the materials I use bear marks I've created myself. I use paper, thread, and ephemera collected over a lifetime of travel and experience. A balance of these materials and intentions combine to reveal an expression of organic elegance.