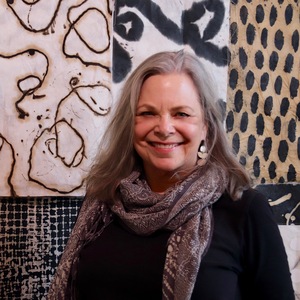 Marianne Hall is a visual artist working in New Mexico, USA. She has exhibited across the country and her work is in many private collections. Inspired by materials and the process of making, her focus is on texture, layering, and distinctive mark-making. Her results are lyrical and layered abstracts. Originally from Detroit, Michigan, Marianne received her BFA in Fibers from Wayne State University.

An experienced traveler, Marianne has journeyed throughout North America and lived in Canada for several years. She has also explored many parts of Europe, Asia, Australia, New Zealand, and Indonesia. As a result of her travel, her work is particularly influenced by Japanese and worldwide indigenous cultures. In 2011, drawn by its climate and rich history, Marianne relocated to New Mexico. She currently lives and works in Albuquerque where she has a studio at the Harwood Art Center.

Marianne has worked in various capacities for the interior design industry, both in commercial and residential markets. She enjoys a passion for renovation and restoration with attention to detail.

Hall's work was selected for SURFACE: 2019 Emerging Artists of New Mexico at the Harwood Art Center. Her work was also shown at the 2019 Arts Thrive Benefit for the Albuquerque Museum, in Albuquerque, New Mexico and at the Farmington Museum in Farmington, New Mexico.