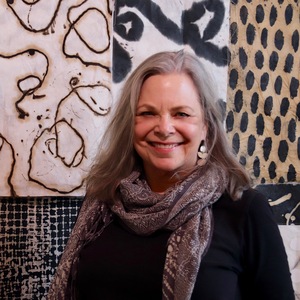 Marianne Hall is a visual artist based in Albuquerque, NM. She was born in Detroit, MI and raised in the shadow of the auto industry. She studied art at the Center of Creative Studies in Detroit, and earned her BFA in Fibers with honors from Wayne State University

Her travels have taken her across the world where she fell in love with the handmade papers of Japan and Korea, and to places where she was introduced to the indigenous cultures of Africa, Australia, and North America.

Recently she has been exploring the meaning of the black felt coating fabric inherited from her grandfather's practice as a tailor. While recovering from the loss of her long time partner from brain cancer, the Tibetan Buddhist belief of 'bardo', the state between death and before re-incarnation, has also been an inspiration for Hall.