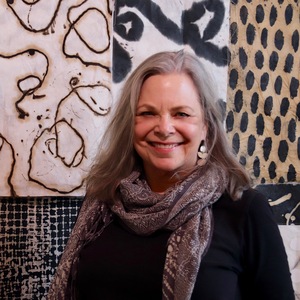 Marianne Hall was raised in the shadow of the auto industry in Detroit, Michigan. She was recognized early in life for her curiosity and talent for making things. Hall went on to earn her BFA in Fibers from Wayne State University. There she was influenced by the grittiness of Detroit's Cass Corridor artists, along with Henry Ford, who once said: "You can have any color, as long as it's black".
Her travels have taken her across the world where she fell in love with the handmade papers of Japan and Korea, and to places where she was introduced to the indigenous cultures of Africa, Australia, and North America.
Natural materials along with vintage paper are the foundation of her work. She uses Sumi and acrylic ink along with ink she brews from walnuts she gathers near her home in Albuquerque, New Mexico.

In 2019 she was recognised for SURFACE: Emerging Artists of New Mexico. Her work was recently shown at the Arts Thrive Benefit for the Albuquerque Museum, in Albuquerque, New Mexico and at the Farmington Museum in Farmington, New Mexico.

This year you can find her work in the online exhibit titled: Socially Distanced, jurried by Jen Tough of the Jen Tough Gallery in Santa Fe. Her work is also featured in SWContemporary's Field Guide 2020, a guidebook to New Mexico's art and culture.